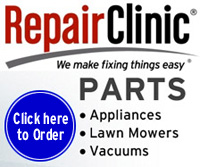 Due to high costs for keeping this site running, please consider making a donation.
A little today will help to ensure we will still be here tomorrow!
Content Article: Adopt These Money-Saving Habits This Winter
Content Article: Five Easy Fixes for Your Appliances
Content Article: Keeping Your Microwave Happy
Content Article: Range Cleaning 101
Cerama Bryte, glass-ceramic cooktop cleaner
Solid surface range element restorer
Oven cleaning kit, includes (1) expanding sponge, (1) scrubbing sponge, (1) scraper
Content Article: Quick & Easy Fridge Fixes
Content Article: 7 Simple Dryer Repairs You Can Do Yourself
Refrigerator Parts
Below are resources for determining your model number for your refrigerator, finding the refrigerator part you need, and lists of commonly replaced parts for various brands of refrigerator.
Whirlpool, Inglis, Kitchen Aid refrigerator parts
GE, Hotpoint refrigerator parts
Maytag, MagicChef, Norge and some Wards & Admiral refrigerator parts
Frigidaire, White Westinghouse refrigerator parts
Who made my Kenmore help...grab your model# and check out this chart.
Find your part with RepairClinic.com's Shop for Parts feature.
Search by part number or model number for best results.
If you don't know your model number - try searching by appliance type, brand or part type.
Whirlpool, Inglis, Kitchen Aid refrigerator parts
Amana refrigerator parts
Is your Amana refrigerator clogging up with ice in the drain line and freezer? - these can help...
GE, Hotpoint refrigerator parts
Maytag, MagicChef, Norge and some Wards & Admiral refrigerator parts
Frigidaire, White Westinghouse refrigerator parts
Universal refrigerator parts
---