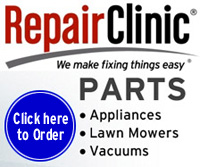 Due to high costs for keeping this site running, please consider making a donation.
A little today will help to ensure we will still be here tomorrow!
Content Article: Adopt These Money-Saving Habits This Winter
Content Article: Five Easy Fixes for Your Appliances
Content Article: Keeping Your Microwave Happy
Content Article: Range Cleaning 101
Cerama Bryte, glass-ceramic cooktop cleaner
Solid surface range element restorer
Oven cleaning kit, includes (1) expanding sponge, (1) scrubbing sponge, (1) scraper
Content Article: Quick & Easy Fridge Fixes
Content Article: 7 Simple Dryer Repairs You Can Do Yourself
Noisy Dryer
My dryer is making a noise, should I fix it now? Or can I put this off until it "really" breaks?
I wish I had a nickel for every time I heard this!!
I went on a service call and found an extreme case of "putting it off" until it "really" breaks.
The front glides where worn out on this dryer, the customer kept using the dryer. The drum started to wear into the support for the front glides, the customer kept on using the dryer. The drum started to grind through the front of the dryer, the drum actually ground a hole into the door and once the drum dropped enough, it actually ground a hole in the side of the cabinet.
At what point do you think..."I may have a problem"?...the screeching noises, the fact the drum is falling out of the front of the dryer!
Luckily, Maytag dryer parts are easy to come by. Not only that, but they are easy to install too.
Fix the trouble maker when it begins to give you problems...an ounce of prevention can stop a pound of cure.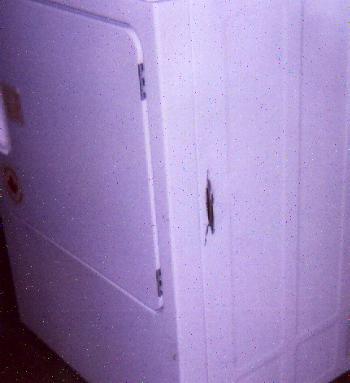 The customer had to replace this 6 year old dryer because they thought the terrible noises would "go away"
---