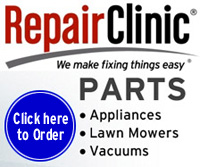 Content Article: Easy DIY Appliance Fixes Anyone Can Do
Content Article: Refrigerator Care Dos and Don'ts
Content Article: What Your Appliance Error Code Really Means
Content Article: Range Cleaning 101
Content Article: Top Holiday Prep Tips
Content Article: Seven Reasons Your Oven Isnt Baking Evenly
Check out the illustrated parts lists. You will be able to view the exact part online and compare it to the part you have in your hand.
Noisy Dryer
My dryer is making a noise, should I fix it now? Or can I put this off until it "really" breaks?
I wish I had a nickel for every time I heard this!!
I went on a service call and found an extreme case of "putting it off" until it "really" breaks.
The front glides where worn out on this dryer, the customer kept using the dryer. The drum started to wear into the support for the front glides, the customer kept on using the dryer. The drum started to grind through the front of the dryer, the drum actually ground a hole into the door and once the drum dropped enough, it actually ground a hole in the side of the cabinet.
At what point do you think..."I may have a problem"?...the screeching noises, the fact the drum is falling out of the front of the dryer!
Luckily, Maytag dryer parts are easy to come by. Not only that, but they are easy to install too.
Fix the trouble maker when it begins to give you problems...an ounce of prevention can stop a pound of cure.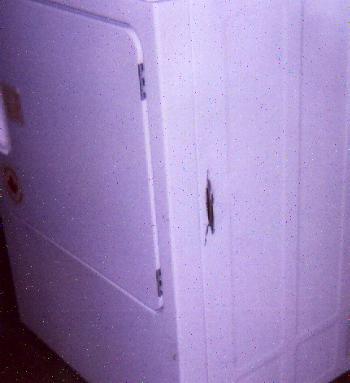 The customer had to replace this 6 year old dryer because they thought the terrible noises would "go away"
---