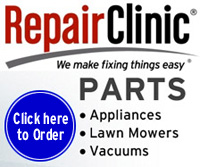 Due to high costs for keeping this site running, please consider making a donation.
A little today will help to ensure we will still be here tomorrow!
Content Article: Adopt These Money-Saving Habits This Winter
Content Article: Five Easy Fixes for Your Appliances
Content Article: Keeping Your Microwave Happy
Content Article: Range Cleaning 101
Cerama Bryte, glass-ceramic cooktop cleaner
Solid surface range element restorer
Oven cleaning kit, includes (1) expanding sponge, (1) scrubbing sponge, (1) scraper
Content Article: Quick & Easy Fridge Fixes
Content Article: 7 Simple Dryer Repairs You Can Do Yourself
Name that Part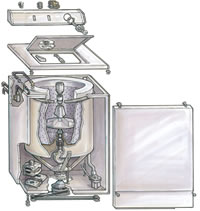 Often knowing what that part is called is half the battle for getting the correct part for our repair. Common names and detailed descriptions of the appliance components can be found from links below....
These are interactive and will 'pop-up' a detailed description when the browser mouse pointer moves over specific areas. These interactive pages may require a Flash or Java enabled browser to view them.
Dryers extra:

Dryer electric ( rear view )

Dryer electric inside ( front view)

Dryer gas inside (front view )


---