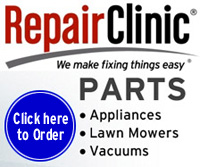 Due to high costs for keeping this site running, please consider making a donation.
A little today will help to ensure we will still be here tomorrow!
Content Article: Adopt These Money-Saving Habits This Winter
Content Article: Five Easy Fixes for Your Appliances
Content Article: Keeping Your Microwave Happy
Content Article: Range Cleaning 101
Cerama Bryte, glass-ceramic cooktop cleaner
Solid surface range element restorer
Oven cleaning kit, includes (1) expanding sponge, (1) scrubbing sponge, (1) scraper
Content Article: Quick & Easy Fridge Fixes
Content Article: 7 Simple Dryer Repairs You Can Do Yourself
Electric Range Purchase
Ranges come in many different styles....Gas...Electric...Combination of gas and electric...The most common range is a 30 inch range but there are also 24 inch ranges that are more common as second range or apartment size ranges.
Electric Ranges
One of the biggest changes in ranges has been that they come with a power cord attached to the range. If your old range has the power wire coming through the floor and attached directly to the range, this will have to be disconnected and a receptacle box and plug installed to accept the new range cord. Look at your range install before going to purchase a new range. Electric ranges have had some new features added to them in the last few years, convection ( which is a fan inside the oven to circulate the heat around ), Ceran ( glass ) flat cook tops. Ceran cook tops can be easier to keep clean as there is no bowls or rings to worry about, but your cookware must have a very flat bottom.
Ceran cook tops: Glass Ceran cook tops can be much easier to keep clean, but they have some cleaning procedures that need to be followed. You can read them here.
Some tips on purchasing a new range brought to you by an Appliance Repair Aid sponsor....
Related items, further info:
---