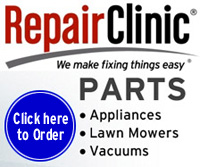 Due to high costs for keeping this site running, please consider making a donation.
A little today will help to ensure we will still be here tomorrow!
Content Article: Adopt These Money-Saving Habits This Winter
Content Article: Five Easy Fixes for Your Appliances
Content Article: Keeping Your Microwave Happy
Content Article: Range Cleaning 101
Cerama Bryte, glass-ceramic cooktop cleaner
Solid surface range element restorer
Oven cleaning kit, includes (1) expanding sponge, (1) scrubbing sponge, (1) scraper
Content Article: Quick & Easy Fridge Fixes
Content Article: 7 Simple Dryer Repairs You Can Do Yourself
Dryer Heating Poorly
A tip on what to look for with a poor heating dryer....
Poor air flow is a very common trouble maker for slow to dry or poor heat complaints. Just sticking your hand under the vent hood and saying "I feel air" is not enough. Always check/change/shorten the venting and vent hood first, then check air flow in your dryer. The dryer is full of air vents and ducts that must be cleaned/checked as well. They could be in the door, on the back of the inside of the drum. A loose or clogged fan blower can also effect air flow. Poor/loose/worn drum seals will stop proper air flow as well.
I was on a service call and found this problem...even after I suggested the customer check the venting/dryer air ducts/lint filter before we look at the dryer. "Everything is good" is what they told me..... guess again.....this is what I found.....
Not much air flow through that grill. Looks to be approx 1/2 plugged :-(
---