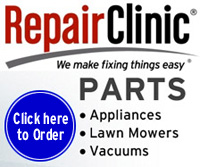 Due to high costs for keeping this site running, please consider making a donation.
A little today will help to ensure we will still be here tomorrow!
Content Article: Adopt These Money-Saving Habits This Winter
Content Article: Five Easy Fixes for Your Appliances
Content Article: Keeping Your Microwave Happy
Content Article: Range Cleaning 101
Cerama Bryte, glass-ceramic cooktop cleaner
Solid surface range element restorer
Oven cleaning kit, includes (1) expanding sponge, (1) scrubbing sponge, (1) scraper
Content Article: Quick & Easy Fridge Fixes
Content Article: 7 Simple Dryer Repairs You Can Do Yourself
Dishwasher Installation With Non-Wood Countertop
I am trying to install my dishwasher but my counter top is not wood, what can I do?
From GE...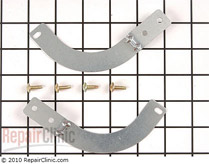 Dishwasher Side Mounting Brackets
Brackets for Installing Dishwasher Beneath Countertop of Granite or Other Impervious Material.
Attach to the Top of the Dishwasher and to the Cabinets on Each Side.
---
From Whirlpool...
Floor-mount Kit.
Kit allows you to mount dishwashers properly when you cannot use under-counter installation.
---
From Frigidaire...
If mounting your dishwasher to the countertop or to the floor is not a desirable option, you can order the side mount kit.
---
You might be able to use kitchen range anti-tip brackets to hold onto the dishwasher legs once the dishwasher is pushed into place...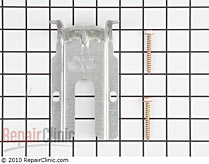 Anti-tip Kit, w/bracket & screws
Something else that may also help....Granite Grabbers A Revolutionary Solution for Quickly and Securely Installing Dishwashers Under Granite or Other Solid-Surface Countertops. Works on all Solid Surface Countertops!
---