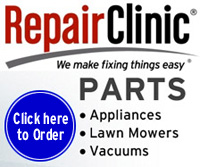 Due to high costs for keeping this site running, please consider making a donation.
A little today will help to ensure we will still be here tomorrow!
Put A Little Spring In Your Step!
For whatever season you find yourself in, we have the parts you need to complete any home repair and get the job done today! 5% off parts for appliances, lawn equipment and heating and cooling equipment now through March 31st.
Shop for Lawn Equipment Parts
Repair help for appliances, lawn equipment and heating and cooling.
12% Extra Discount on K9 Advantix at CanadaPetCare. Limited Stock for discounted price is available for Coupon Code-CPC12ON. Get Free Shipping on all order in USA. Guaranteed Cheapest. Shop Now
Dishwasher Impeller
Many times a complaint of noises ( grinding or scraping ) can be traced to a cracked impeller in many of the common motor and pump assemblies used today. Sometimes a poor washing complaint is common after this wash impeller has cracked. Remove power first before investigating.
The motor shaft has started to rust and swells out and this swelling cracks the upper impeller. Most times a new seal and impeller kit can cure this complaint but sanding and cleaning of motor shaft is required before replacing the new seals and impellers.
---