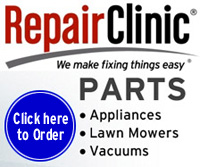 Due to high costs for keeping this site running, please consider making a donation.
A little today will help to ensure we will still be here tomorrow!
Put A Little Spring In Your Step!
For whatever season you find yourself in, we have the parts you need to complete any home repair and get the job done today! 5% off parts for appliances, lawn equipment and heating and cooling equipment now through March 31st.
Shop for Lawn Equipment Parts
Repair help for appliances, lawn equipment and heating and cooling.
12% Extra Discount on K9 Advantix at CanadaPetCare. Limited Stock for discounted price is available for Coupon Code-CPC12ON. Get Free Shipping on all order in USA. Guaranteed Cheapest. Shop Now
Dishwasher Access Panel Removal
There are many different styles of dishwashers built today. One of these should point you in the correct area's to look for the screws that hold the access panels on the dishwasher. Remember, remove power first.
The most common configuration of the access panels used today...
This is the newer "over sized" door, looks like a one panel front, but there still is small access panels on the very bottom....
Some Asko Dishwashers....
2 Torx # 20 screws hold the toe plate on. Once toe plate is off, 2 Torx screw hold the lower panel on and the 2 brackets the hold the toe plate on have a springy locking tab, press the tab away from the bracket and the brackets will pull straight out. The service panel has 4 or 6 Torx screws holding it on, 2 are pointing up in the corners.
Removing the inner door panel on a newer style Maytag dishwasher - picture one, picture two.
Some Kitchen Aid, Whirlpool or Kenmore Electronic dishwashers...
Access help....Outer panels - Control console.
---