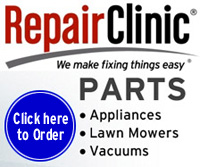 Due to high costs for keeping this site running, please consider making a donation.
A little today will help to ensure we will still be here tomorrow!
A snowblower makes it easy to clear snow from walkways, driveways and other areas. Like other outdoor power equipment, the snowblower must be properly maintained for safety purposes and in order to operate efficiently.
Appliance Complaints
Sometimes something just bothers us enough that we just need to COMPLAIN. This can be a good thing!! Venting can help....that is what this section is for. If you need to complain/vent about a product, store or service, the links below may help you out.
The Art of Complaining....
None of these consumer web sites are affiliated with Applianceaid.com - none of the information found on these sites has been copied or re-produced on Applianceaid.com - links above are just provided for the customers of Applianceaid.com
---
Top Rated Home Warranty Companies
---