Appliance Repair and Parts Help, New Purchase Info and More!
Welcome to Appliance Repair Aid, Your Online
Appliance Repair Shop
ApplianceAid.com is your resource for appliance repair help and appliance parts. We also have appliance purchase help information if your old appliance is just too far gone for fixing, and a wealth of other appliance information.
---
Appliance tip of the week...
Microwave Not Heating
The part(s) or condition(s) listed below for the symptom Microwave not heating are ordered from most likely to least likely to occur. Check or test each item, starting with the items at the top of the page.
Most Frequent Causes for Microwave not heating
The diode converts the A/C power output of the transformer to D/C, doubling the voltage to nearly 5,000 volts. This high voltage powers the magnetron to heat the food. If the diode burns out, the magnetron won't receive enough voltage to operate, preventing the microwave from heating. When the diode fails, it is often visibly burned out. Inspect the diode and if the diode is burned out, replace it. If inspecting the diode proves inconclusive, test it with a multimeter that uses a 9-volt battery or put a 9-volt battery in series with the diode. When the leads are reversed, the diode should only have continuity in one direction. ( Warning: The microwave oven can store a lethal amount of electricity in its high voltage capacitor, even after the microwave oven has been unplugged. Due to the high running voltage and the potential for electric shock, it is extremely dangerous to replace the electronic components in a microwave. Suggested an licensed technician should replace the diode.)
Most microwaves have three or four door switches. When the microwave door closes, the door switches actuate in sequence to ensure that the door is closed properly. If any of the door switches fails, the microwave will not start or heat. To determine if any of the door switches are defective, use a multimeter to test each of the switches for continuity. If any of the door switches does not have continuity, replace it. ( Caution: The microwave oven can store thousands of volts of electricity in its high voltage capacitor, even after the microwave oven has been unplugged. Due to the potential for electric shock, it is extremely dangerous to replace the electronic components in a microwave. Suggested an licensed technician should replace a door switch.)
The magnetron uses high voltage, high current DC power to generate the microwave frequency that cooks the food. If the magnetron burns out, the microwave won't heat. The magnetron is not repairable—if the magnetron is burned out, you must replace it. ( Warning: The microwave oven can store a lethal amount of electricity in its high voltage capacitor, even after the microwave oven has been unplugged. Due to the high running voltage and the potential for electric shock, it is extremely dangerous to replace the electronic components in a microwave. Suggested an licensed technician should replace the magnetron.)
The high voltage capacitor works with the high voltage diode to convert the output of the transformer to DC voltage and to double the output voltage. If the capacitor is burned out, the entire high voltage circuit will stop working properly, and the microwave won't heat. To determine if the high voltage capacitor is defective, use a VOM meter with a capacitance testing capability. ( Warning: The microwave oven can store a lethal amount of electricity in its high voltage capacitor, even after the microwave oven has been unplugged. Due to the high running voltage and the potential for electric shock, it is extremely dangerous to replace the electronic components in a microwave. Suggested an licensed technician should replace the high voltage capacitor.)
The thermal fuse cuts off power to the microwave if the microwave overheats. To determine if the thermal fuse has blown, use a multimeter to test it for continuity. If the fuse doesn't have continuity, replace it. The thermal fuse cannot be reset—if the fuse is blown, it must be replaced. ( Caution: The microwave oven can store thousands of volts of electricity in its high voltage capacitor, even after the microwave oven has been unplugged. Due to the potential for electric shock, it is extremely dangerous to replace the electronic components in a microwave. Suggested an licensed technician should replace the thermal fuse.)
The main control board might be defective. However, this is rarely the case. Control boards are often misdiagnosed—before replacing the control board, check all of the more commonly defective parts. If you have determined that all of the other components are working properly, replace the main control board. ( Caution: The microwave oven can store thousands of volts of electricity in its high voltage capacitor, even after the microwave oven has been unplugged. Due to the potential for electric shock, it is extremely dangerous to replace the electronic components in a microwave. Suggested an licensed technician should replace the main control board. )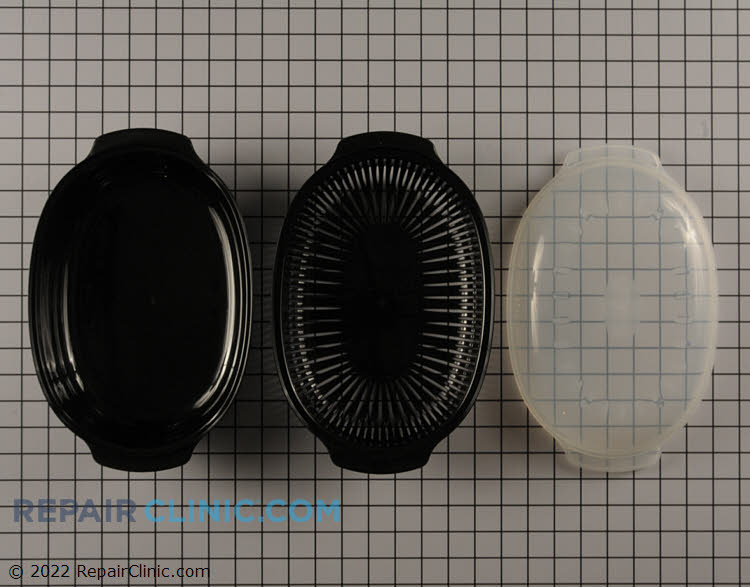 Universal microwave steamer for steaming vegetables, chicken, or shellfish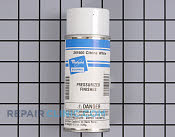 Touch-up paint, citrine white, 4.5 ounces. Spray can for microwave oven liner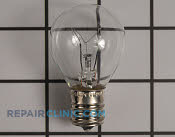 40 Watt microwave light bulb