Appliance Repair and Parts Help, New Purchase Info and More!
Welcome to Appliance Repair Aid, Your Online
Appliance Repair Shop
ApplianceAid.com is your resource for appliance repair help and appliance parts. We also have appliance purchase help information if your old appliance is just too far gone for fixing, and a wealth of other appliance information.
---
Appliance tip of the week...
Oven elements
Always remember Electricity is dangerous and should be treated with respect!
Always remember Electricity is dangerous and should be treated with respect!
Oven Bake and Broil Element Testing
Checking a range element :
With the element removed from the range, check across the terminals of the element for continuity. Depending on the manufacturer of the element, you will normally read between 19 ohms and 115 ohms, with an ohm meter. To see if the element is grounded, read between each side of the element terminals to the sheath of the element. If you read continuity, the element is grounded and should be replaced.
Changing a basic bake element:
disconnect power first!
Remove oven racks, remove the mounting screws from the element mounting plate, found against the back wall of the range oven liner.
Pull defective element away from the back of the oven wall as far as the wire will allow ( the odd time, the wires may be too short and you may have to disconnect the wires from the element at the back of the range ).
Remove wire lead screws from the element.
Replace the element and reconnect the leads ( if only two wires going to the element, it does not matter which goes on left or right wire terminal ).
Tuck surplus wire behind insulation.
Line up holes and reinstall new element using existing screws.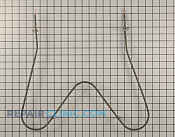 Oven bake element. The terminals are male quarter inch spade connectors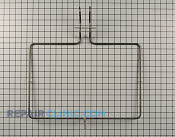 CBake element assembly with support brackets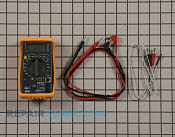 Digital Multimeter is an economical solution to your everyday electrical & temperature measurement needs