Appliance Repair and Parts Help, New Purchase Info and More!
Welcome to Appliance Repair Aid, Your Online
Appliance Repair Shop
ApplianceAid.com is your resource for appliance repair help and appliance parts. We also have appliance purchase help information if your old appliance is just too far gone for fixing, and a wealth of other appliance information.
---
Appliance tip of the week.
Most Frequent Causes for a bad defrost timer.
The defrost timer can be found mounted in several different places. Ceiling in the refrigerator, back bottom near the compressor, front area underneath behind the front kick panel and some behind the cold control cover. These are common areas.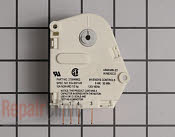 Defrost timer - this is a timer motor controlled device, it will shut the fridge off and put the fridge into the defrost mode at a pre-determined time depending on make and manufactures. The timer also makes the fridge come back out of defrost and puts normal running back on.
How a common frost free defrost cycle works and the main parts are linked here.
How can a defrost timer fail?
A defrost timer can fail and the evaporator coils will all get plugged up with white snow or frost. It can get stuck in the run mode ( would create a frost build up ). It can get stuck in the defrost mode ( the refrigerator would just sit there dead with the light on ). The odd time a defrost timers electrical contacts can burn causing intermittent running of the refrigerator.
Can it ohm ok and still be bad....yes!
Can it seem to run and still be bad....yes!
Can it intermittently work?....yes!
Can they physically break?....yes!
Can they electrically break?....yes!
Can they get noisy and make a tick or ticking noise or growl?....yes!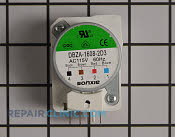 Defrost timer.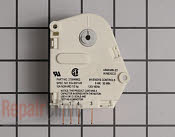 Refrigerator defrost timer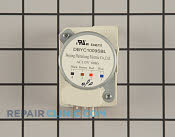 Defrost timer assembly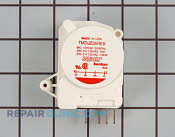 Refrigerator defrost timer